2018 GMC Terrain vs 2018 Lincoln MKX, Brookfield IL Which Is Right For You?
---
---
There are many things that make vehicle buying experience tedious and the amount of options for make and models of vehicles that are available today can be an overwhelming choice for a family. The choice between 2018 GMC Terrain and the 2018 Lincoln MKX is not any different. Both offer great comfort and luxury and have incredible benefits however there are some key differences that can help ease the decision and help you take the steps towards owning one of these fantastic vehicles. Price, performance, Gas mileage, and Technology can be big factors and these are the type of factors that can make the difference between these two great SUVs that must be considered in order to make the best decision for you. We here at Castle Buick GMC have the expertise to help you make this decision and more like it!
---
Performance (fuel efficiency, mpg etc.)
As far as performance is concerned, the 2018 Lincoln MKX takes the cake with 303 Horsepower over the 2018 GMC Terrain's 170 Horsepower. This of course comes at the cost of gas mileage. This year's Lincoln MKX has an EPA Fuel Economy of 25 miles on the highway and 17 miles in the City and a combined EPA fuel economy of 20 miles. The 2018 Terrain comes in at a more appealing 30 miles on the highway and 26 miles in the city with combined miles per gallon at 28 miles. Also, the GMC carries a lower capacity fuel tank so it will cost you less at the gas pump. The both come in automatic transmissions and are 2 Wheel Drive and so the driver will not have much of options for these aspects of the vehicle.
As far as the engine is concerned, the GMC Terrain has 1.5 Liter engine that take Turbo gas for its direct injection fuel system. Its counterpart has a larger 3.7 liter engine that takes regular unleaded fuel in its V6 engine. It seems that this choice will depend on what the driver is looking for in their vehicle. Those who perhaps do not have to drive a long way in their commute, are ok with sacrificing gas mileage and are looking for more power when they hit the gas pedal will be happy to find that the Lincoln MKX will best suit their needs. Those who would like to save money at the gas pump get more distance driving out of their vehicle and don't mind a slightly slower Mid-Size SUV will be more than happy with a 2018 GMC Terrain and will definitely get more bang for their buck. Here at Castle, we would love to take you on a test drive in the wonderful new GMC Terrain so that you can see the difference and how perfect it can fit your needs!
---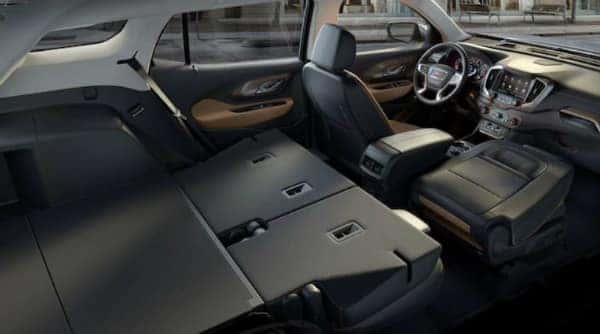 Interior
The interior of the latest GMC terrain and Lincoln MKX are pretty comparable when it comes to size with only slight variations in inches for things such as shoulder room, leg room and hip room. Both have options of premium leather and have a sense of luxury. They both have options for weather controlled seating and have technology to keep all passengers comfortable and connected. For instance, both are equipped with an app that helps you keeps you connected with the vehicle at any times. GMC has the unique GMC Infotainment system that is equipped with Apple CarPlay and Android Auto. With this technology you can also project your phones screen and select them on another screen which is not available on the 2018 Lincoln. The Lincoln has great technology for parking and service connections. It offers free Lincoln pickup and delivery when it is being serviced. It also offers the option of paying for parking reservations in advanced which is not available in the GMC. There are of course more technological connections that can be seen in these models. It is the best idea for you to come in and take a look for yourself here at Castle Buick GMC!
---
---
---
Specials & Finance
There is no doubt that you will be receiving the best financing options and specials when you come to visit us at Castle Buick GMC. We offer specials in all our departments including parts and service and would love to give you the most bargain prices for your needs. Our sales and financing team will help you get the greatest price of the MSRP that we can give. We would love to speak to you and help you take one of our premium vehicles home today!
Why buy from Us?
Royal service is demonstrated consistently by our vehicle experts in all of our departments here at Castle Buick GMC. We can assure you that we will keep your best needs and interests in mind so that you can feel that can be at ease during a decision that can be overwhelming. Come in and let us take care of you today!
---
---