2018 GMC Terrain: A match made in heaven for drivers of Forest Park, IL!!
---
---
Attention residents of Forest Park, Illinois! The greatest vehicle for your Mid-SUV needs has arrived. The all-new 2018 GMC Terrain has everything that you are looking for in a vehicle. It is luxury, it is safe, it is modern, it is connected and it will get you where you need to go without burning a hole in your wallet! We guarantee that you will love every aspect of this vehicle and that it will suit all your versatile driving desires. Form its amazingly spacious cargo space equipped with its Front-to-Back Load Floor to its outstanding Traction Select System, how can any other vehicle compare? Come in and test drive to take home this fantastic vehicle and let our quality service and quality product speak for itself here at Castle Buick GMC.
---
What's New?
The latest terrain has some pretty awesome updated features for new drivers and we would love for you to come in and experience these new features for yourself! Some of the newest features include superior performance upgrades to the engine specs such a choice of a turbocharged four-cylinder engine and first diesel SUV. They have taken away the option of the V6 but that does not stop the power of this excellent SUV and contributes to the fantastic MPG and we will guarantee that you will love its ability to get up and go.
Also, there are some fantastic esthetic upgrades that allow the 2018 GMC terrain to have more color options and to be more aerodynamic by being reshaped by in design to be quieter while driving which gives the passengers a lot more comfort during transport. It also has a panoramic roof that appears to be invisible to the eye!
---
---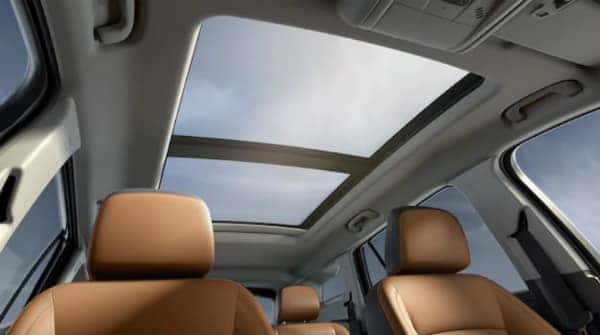 Interior
If you are looking for more cargo space that is exactly what has been added to the newest model of the GMC terrain. It now has a 60/40 split folding rear seat and the front passenger seat folds almost to the floor! This gives the SUV and incredible ability to haul objects up to 8 feet without any trouble at all. The seating also has the available leather appointed front seats that showcases the roomier interior of the Terrain.
As far as technology, the terrain has had some amazing upgrades as well! The Electronic Precision Shifter is one of the coolest features that have been added to the Terrain where the driver can change the operation of the vehicle by just one click of a button on the dashboard which frees up cabin space! Another amazing technological advancement is the teen driver setting of the vehicle where parents can set controls for their young driver that allows them to be trained to be safe and excellent drivers! This includes, muting music while driving, speed warnings, and alerts in the vehicle that the teen is operating the vehicle. The new vehicle also allows for Apple CarPlay and Android Auto in its state of the art Infotainment system that allows you to project your phones screen and select apps! Plenty of cool options for the tech savvy driver!
---
---
---
Specials & Finance
Here at Castle Buick GMC we are renowned for our amazing and knowledgeable staff in all of our departments that will help you reach all your vehicle dreams. We are also here to provide you the best possible price to fit your budget and needs. Our amazing specials in all departments, including service, in partnership with our expert financing will be able to give you the most fantastic bargains so that you are getting the most out of each and every dollar that you spend here! We want to show you from sales to service and finance how we can help you get you into your new 2018 GMC Terrain today! Come on in!
Why buy from Us?
If you are only left with the question of "why buy from us?", the answer is because it is our prime goal to service the Forest Park area with their vehicle aspirations. We are passionate about what we do and we have the most qualified and trained team to assist you with the best customer service in the area. Our vehicles are high quality and we have an amazing selection of options for each and every vehicle so that you can make a sound decision on which is best for you. Let us show you how much we love our product and love your business. The quality of the vehicle speaks for itself so come in and speak to us today!
---
---